Provincial CWL Spiritual Advisor
---
Active Participation of the Pastor in CWL Activities
By Fr Peter Nnanga, MSP
Saskatchewan Provincial Spiritual Advisor, 2022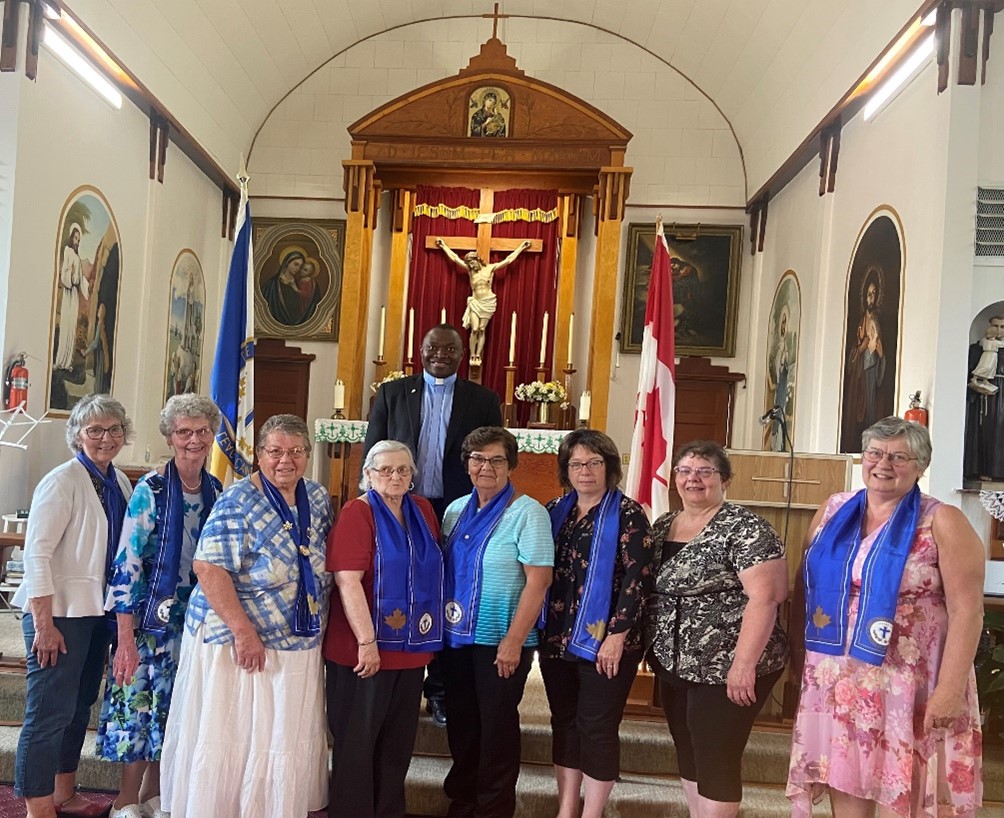 Our Lady of Perpetual Help CWL Council, Cut Knife, SK
Parish of Our Lady of Perpetual Help, Cut Knife, Prince Albert Diocese, SK. (Members: L-R: Cathy Hewson, Jean Bertoia, Marcella Pedersen, Elsie Sawatzky, Phyllis Brackenbury, Nicole Dupuis, Carmen Sperling, Germaine Vany, and Fr Peter Nnanga, MSP, Pastor) August 23, 2022.
Part 1.
Active Participation of the Pastor in CWL Activities
The question has always been, "How do we get
our priest to be involved in our CWL programs and
activities?"
Three ways priests can get involved in CWL
activities / programs:
A. By way of Personal interest: a priest can
make himself so easily and readily available to the
CWL in his parish out of his desire and wish to see
a more united and community minded parish
community. He will do the same for the Knights of
Columbus or Youth Group if they have such
groups in his parish.
B. By way of invitation by the CWL: Some
priests won't take part in most of CWL activities or
programs unless they are formally and officially
invited and given a role to play or something to do.
Include them, get them involved.
C. By an official appointment: For example, a
priest who is appointed as a diocesan CWL
spiritual advisor or provincial CWL advisor will find
himself involved in CWL activities or programs at
his parish if CWL already exists in his parish; or if one does not yet exist, he will show more interest in getting CWL established in his parish.
The type of CWL activities you should get your priest involved in:
Eucharistic Adoration before CWL Meeting.

Celebrating Mass before CWL Meetings.

Asking him to give a 5 – 10-minute talk on a given topic.

Inviting him to take part in lunch or tea break during your gathering.

Officially letting him know what activity you are doing in the parish, even if he is not participating. Keep good and open lines of communication with the priest.

As a CWL group, identify with him; for example, celebrating his birthday and priestly anniversary for him – for instance, booking Mass for him and sending him prayers and good will messages or cards.

As members of the CWL and parish, celebrate or mark your own birthdays and wedding /marriage anniversaries and make your priest part of the celebrations.
The parish is a family, the pastor is the father of this parish family; the parish is a community, the pastor is the head of this community; therefore, the pastor should be interested in the total wellbeing and functionality of his parish family and community. The CWL must find ways to get their pastor involved in their activities.
As for me, I am personally interested in seeing that my parish is more family oriented and community minded, and I find working with the CWL to be one of the best way to achieve that.
Part 2.
The Visible Presence of the Priest in the Catholic Women's League (CWL)
A Pastoral Necessity as a Priest
Introduction
"The Son of Man did not come to be served, but to serve, and to give his life as a ransom for many." Matthew 20:28. "Father, if you are willing, take this cup from me; yet not my will, but yours be done." Luke 22:42. 'Not to us, LORD, not to us but to your name be the glory. Psalm 115:1
The priestly vocation, that is, our priesthood, is essentially a call to service. Like our Lord Jesus Christ, our Master, we are called into the priesthood 'not to be served, but to serve' God's people and the Church. This was my understanding and mind set when I decided to embrace and accept the priestly vocation in 1997, the year I got admission into the Missionary Society of St Paul (MSP) of Nigeria Seminary. I told myself then, and promised Jesus, that I would serve as a priest in any capacity, wherever and however He deems fit for me through the MSP and the Church. It is this call to service that brought me from my country of origin in Africa to Canada in March 2014, and into the Catholic Women's League (CWL) in June 2018.
My Appointment as the Provincial CWL Spiritual Advisor
My being actively involved in the CWL did not begin with my official appointment as the Provincial Spiritual Advisor. In my first pastoral assignment and posting here in Canada (August 2014 –August 2015), I had three parishes - one white parish and two First Nations parishes. The white parish had a CWL council, and as their pastor, I became part of their group, because I saw it as part of my pastoral care and duty to attend to their needs, especially whenever they called on me. Prior to my being sent on mission to Canada by the MSP in 2014, I had a very active CWO (CWL) in my parish in Nigeria, and I was their chaplain (Sept 2008 – Sept 2013). My mother has also been a very active member of the CWO in Nigeria since my childhood and is still a member to date.
In my second pastoral posting (August 2015 – Sept 2020), I was assigned to five parishes, all white parishes, but none of these five parishes had a CWL council. I was surprised and didn't know why such a wonderful group was missing in all five of the parishes. There were active Knights of Columbus councils in two of the five parishes, and I was their chaplain, but no CWL. I made a series of efforts to establish CWL in at least one out of the five parishes but unfortunately, I did not succeed; in fact, I failed woefully. However, I refused to give up, and after being appointed as Provincial Spiritual Advisor in June 2018, I made another sincere effort to start a council. I am grateful to God that by the time I was transferred from that zone in Sept 2020, we had a fully established CWL council.
In all honesty, my appointment as the Provincial CWL Spiritual Advisor came as a big surprise to me. It was during our priestly retreat in May 2018 that our Bishop told us at our pre-retreat meeting that it was the turn of our Diocese (Prince Albert) to provide a Spiritual Advisor for the CWL at the provincial level. At that meeting, He asked for a volunteer, but no one indicated any interest. He then said that if anyone would be willing to take on that position to contact him before the end of the retreat. The day before the end of the retreat, Bishop and I were walking to the conference hall for our spiritual talk for the day and asked me if I would like to serve as the Provincial CWL Spiritual Advisor. I was speechless; I didn't know what to say. He observed my reaction, my speechlessness, and said to me: 'You don't have to say anything now, think about it, and let me know by the end of the day.'
After the conference that day, I met my brother MSP priest, and told him what had happened on my way to the conference and of my conversation with Bishop, and I asked him what I should do. He said to me: 'These women are very organized; you have nothing to worry about; simply be available and be present. They are easy to work with.' I said: 'Oh, that is easy.' Later that evening, I met with our Bishop (now retired -Bishop Emeritus Albert Thevenot, M.Afr), and told him, 'Bishop, Yes, I will accept the position of Provincial CWL Spiritual Advisor.' Not long after the retreat, I received my letter of appointment effective on June 1, 2018. My first meeting with the Provincial CWL members was during the Provincial Convention in Regina, SK – the first Sunday and Monday of June 2018.
Three Levels of Priestly involvement in the CWL
In my eight years of being a pastor here in Western Canada (Prince Albert Diocese, SK), there are three groups in the Catholic Church - the Knights of Columbus, the Catholic Women's League (CWL) and the Youth Group. Out of these three groups, two are very visible and outstanding – the CWL, and the Knights of Columbus. I consider all three of these groups in the Church very important. I have been so blessed to have had the opportunity to work with all three groups. In my former parish, we had a very strong and active youth group, with whom I worked from August 2015 until I was transferred in September 2020. As priests and as pastors, these three groups need us, and it is part of our pastoral care and duty to get involved, and to be present to them. My brother priests, we do need them, and they do need us. Please, do your part to be present and to support the CWL, the Knights, and the youth in your parish.
The CWL at the Parish level – First Level
Catholic women are doing many amazing and wonderful things in the church and in our parishes – they are very active, and present in the parish. For example, they participate in the music ministry, parish council activities, and are present at weekday Masses, adoration, and praying the rosary. They also provide lunch for weddings and funerals and maintain the decorating and cleaning of the church.. They are wives to the men, mothers and grandmothers to their children and grandchildren, and even act as such to other young people in the parish. They are very engaged and active in the entire life of the parish community.
As a priest and as a pastor, if you have a CWL council in your parish, I say – you are blessed. Yes, brother, you are blessed! Like my brother MSP priest said, these women are very organized. As a parish priest, you don't have to be appointed by the bishop as the CWL Spiritual Advisor in your parish; by the virtue of your position as the pastor of the parish, you are automatically one. Therefore, as priests, we must create time for them, support them, and join them in their activities and programs. Sometimes we don't even have to do anything – we just simply have to be present. There are times they may invite us to do something specific. Some CWL councils do not feel supported by their parish priest. I know, as priests, that there are times we can be very busy, and honestly, depending on your parish, we may even be extremely busy, but we should not be too busy to the extent that we lose sight of some of our pastoral duties, and to the point that the CWL members no longer feel they are receiving our support.
The Constitutions and Bylaws of the CWL (2013 Part IX) has it that "There shall be a spiritual advisor for each council." It went on to say that "The spiritual advisor of the parish (CWL) council shall be the pastor of the parish. Where this is not possible, the pastor, in consultation with the council executive, shall appoint a spiritual advisor." b: (i) -page 11)
In my present parish, we have one Sunday every month that is known as CWL Sunday – CWL members do most of the functions, readings, collection, bringing gifts, prayers of the faithful, carry the cross, carry the lectionary during procession, etc. Their meeting is once every month, except the months of July and August which are the summer months. We begin with Mass, or adoration and rosary before the meetings.
When our former CWL president passed on, and we needed members to take on leadership positions, I assisted them in reorganizing the executive. I personally contacted some members, made a few phone calls, and it was so encouraging to me as their pastor how positively a good number of them responded. I did what I did because I wanted the best for my CWL. I love to encourage Catholic women to join the CWL. I tell them it is rewarding being a member of the CWL, because our voice is greater as a group, our work is easier as a group, we have more success stories when we work as a group for the same purpose.
The CWL at the Diocesan level – Second Level
At this level, being involved in the CWL as a priest is by appointment only. To be a Diocesan CWL Spiritual Advisor one must be appointed by the bishop for a period five years. The work of the spiritual advisor, and the level of involvement in the CWL as a spiritual advisor is spelled out in the Constitutions and Bylaws of the CWL (2013 Part IX). The Constitution and Bylaws state: 'The Spiritual Advisor, in cooperation with the chairperson of spiritual development, shall provide advice and guidance for spiritual program.' (a), (i ), page 11). 'The spiritual advisor shall receive due notice of all executive and council meetings and conventions and shall attend and participate in all such meetings and conventions, when possible, in an advisory capacity.' (a), (ii), page 11. It is the duty of the CWL executive to send notice of the meetings and conventions to their spiritual advisor, and of course, out of courtesy, will remind the priest of these meetings and conventions. I feel it is very necessary for the diocesan spiritual advisor to attend the diocesan conventions, as well as the provincial and national convention. Our presence at these conventions is a great way of supporting, promoting and encouraging the good works that these women are doing in the Catholic Church.
The CWL at the Provincial level – Third Level
Similar to the diocesan level, the provincial spiritual advisor is also chosen by appointment. For example, within my province of Saskatchewan, there are three dioceses – Regina Diocese, Saskatoon Diocese, and Prince Albert Diocese. Spiritual advisors are chosen from each diocese by rotation. When I was appointed in 2018, it was the turn of my diocese, Prince Albert, to provide the provincial spiritual advisor, and as such, by divine providence, I happened to be the one that was appointed.
For me, this ministry, serving as the Provincial CWL Advisor, isn't something I consider as secondary, but as a very important part of my primary pastoral work as a pastor; it is not something I "just do in my spare time", no, I take this responsibility seriously. However, I also do not allow my parish pastoral work to suffer, simply because I am the provincial spiritual advisor. I know how to strike a balance. These women are very organized, and that has also really helped me in combining my parish work and the CWL work so that one is not lagging behind the other.
Since my appointment in June 2018 as the provincial spiritual advisor, my work has basically been comprised of participating in the following events:
Provincial convention (usually in June),

Fall workshop (usually October or November)

Winter executive meeting (usually in March)

National convention (usually in August)

Diocesan conventions (usually held in April or early May, before the provincial convention)
NB: Mass is celebrated at all these events.
Who pays for the expenses of the spiritual advisor while attending these events?
At the parish level, if the Parish CWL Council can, and is able to, they will pay for the spiritual advisor to attend the three diocesan conventions. At the diocesan level, it is the Diocesan CWL Council that covers the expenses of the diocesan spiritual advisor, and at the provincial level, it is the provincial council that pays the expenses of the provincial spiritual advisor. This has been my experience since June 2018. Indeed, the CWL is a very organized group in the Catholic Church in our beautiful country of Canada. It is easy to work with the CWL and it has been such a beautiful and rewarding experience for me.
A priest's engagement in the CWL is a big part of collaborative ministry
In very simple terms, 'collaborative ministry' is the clergy and laity working together to achieve the Church's mission.
Ministry literally means servanthood. The call to ministry acts as a means of refining us and leading us to maturity because it is a call to service. It was in taking the role of a servant that Jesus showed his disciples the kind of love they were to display towards one another (John 13:1‐17). The servant does not have a personal agenda. He or she simply obeys the master. He does not expect recognition, other than that of a job well done, or reward, other than his master's pleasure. The call to ministry thus crucifies the ʹfleshlyʹ part of us by demanding a self‐ forgetful and self‐giving love, the attitude that Jesus himself displayed (Philippians 2:5‐8). One aspect of ministry as loving servanthood is collaboration. ʺCo‐operation with the minister in promoting in the parish the whole mission of the Church, pastoral, evangelistic, social, and ecumenical." The mission of the Church is thus not the business of the clergy alone. It is a co‐operative venture requiring collaboration between clergy and laity.
(From: 'Why Collaborative Ministry?' By David Heywood, February 2018)
Collaborative ministry can be defined as: "the clergy, consecrated life (male and female) and lay people of the local and global church working together, as Christian ministers, each in their own right, being mutually supportive, and acting in fellowship with the wider church." (By Ian Williams, 2004)
From the above definition and understanding of the term 'collaborative ministry,' it is obvious that the involvement of the priest in the CWL, in the capacity of a spiritual advisor, as laid down in the CWL Constitution and Bylaws at all levels of the League and is indeed a big part of collaborative ministry – something very essential to the success of the Church's mission.
Appreciation
On behalf of the CWL, I would like to thank all my brother priests, who have been actively involved in the Catholic Women's League. We are very grateful to all of you. May God bless your ministry, and bless the Catholic Women's League of Canada. I am grateful to God for giving me the opportunity to serve as the Provincial CWL Spiritual Advisor. It has been so edifying and spiritually rewarding for me. The CWL National Convention is the highlight of all the CWL programs and activities! I strongly encourage you, my brother priests, to attend a national convention if you have the opportunity. This year's convention was very exciting and motivating. Thank you to the CWL for giving me the platform to be of service to you. Long live CWL.
Glory to Jesus, Honour to Mary!
---
Introduction of Provincial Spiritual Advisor
By Rev Peter Nnanga, MSP
December 2018.
People have asked me about the uniform I wear. This is the design of the CWO (Catholic Women's Organization) in Nigeria. I wear it just like wearing a normal Roman collar. Here are some pictures of me wearing it here in Canada.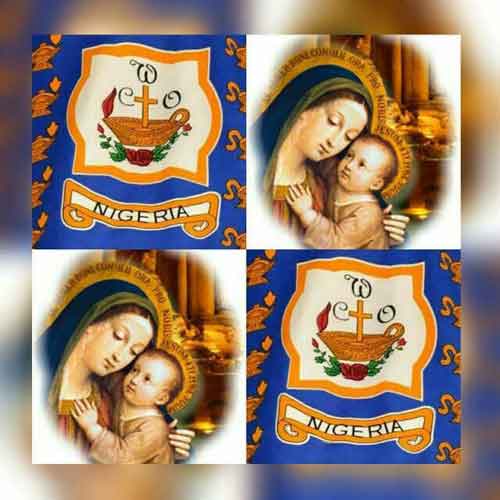 This is the design on the CWO uniform in Nigeria. CWO = Catholic women organization.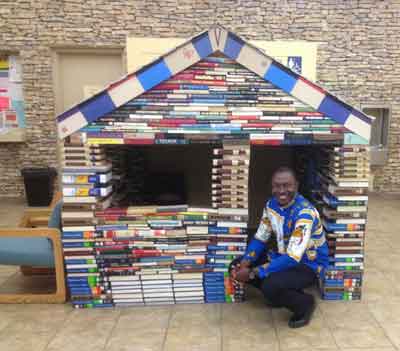 This was taken during my visit to the library in North Battleford in 2014.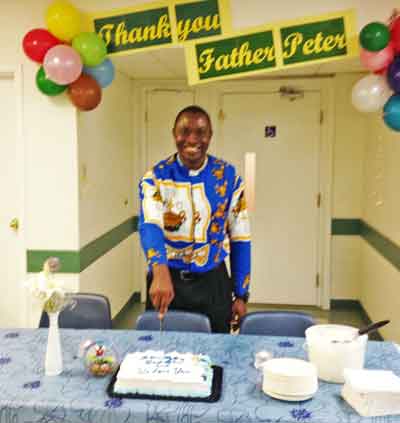 This was taken at Notre Dame Parish, North Battleford, Sk, at their
Thank You lunch in my honour after serving them in July 2014.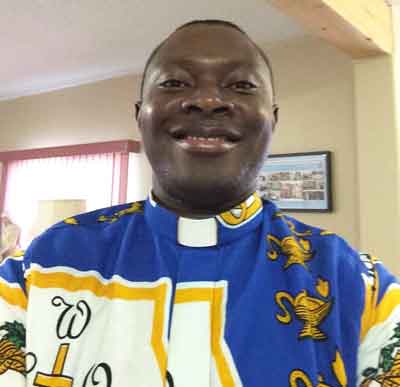 This one was taken at the rectory in Paradise Hill in 2015.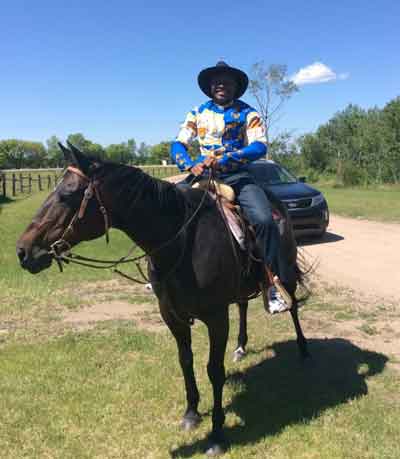 This was taken in Spiritwood in 2016.
---
The Need for the CWL members to bring in our Indigenous Catholic women into the League
By Rev Peter Nnanga, MSP
12 Oct, 2018.
As the new CWL Provincial Spiritual Adviser (PSA), I attended the Provincial CWL Convention in Regina in June 2018, and the National Convention in Winnipeg in August. Both conventions were very interesting, edifying, and a wonderful experience for me. I commend the women for their degree of commitment to the course of the League, and also for their active participation in the activities of the League at the conventions.
The CWL has a powerful voice in the Catholic Church in Canada. I congratulate the League for its achievements and successes in its 98 years of existence. Though I am still very new in the League, I did notice the absence of our Indigenous Catholic women at both the Provincial and National Conventions. I observed that we do really well in getting people to give us talks on Indigenous people and their culture. This is a necessity because we need this knowledge. However, in my observation there seems to be a definite lack in area of the next step which is taking practical steps to doing something to reach out to these ladies so that they are active participants as well.
As the Provincial Spiritual Advisor, I would like to suggest that our CWL members, especially members of the executive, at both the parish and diocesan levels, should move from the art of listening to talks on Indigenous people and culture, to the art of actually doing something tangible and practical in getting our Indigenous Catholic women involved in the League.
Practical Step: Two or three CWL members should visit the Indigenous parishes in their cluster or pastoral zone. They should attend Mass in that parish, and after the Mass, they should visit with the women, and get to know them personally. By wearing their CWL pin and other materials the CWL members show their pride in their league. It is necessary that the CWL members build relationships with the Indigenous Catholic women within their own Indigenous parishes, before inviting them into the League. This is what I call 'Christian friendship'. It is much easier to invite someone that is familiar to you or that you see as a friend to a program than someone that looks like a 'stranger'.
Our CWL members, especially those who are so experienced in the League, should make conscious and sincere efforts to involve our Indigenous Catholic women in the programs and activities of the League, through direct contact and invitations with our Indigenous Catholic women.
The CWL has a good and active voice in the Church, especially through its National Body; therefore, it is pertinent that we stress how important it is for our Indigenous Catholic women to be part of this voice in the Church and that we need them to help us to ensure their voices are heard.
This suggestion might look somehow daunting, because it demands the sacrifice of one's time and presence in an area that is not familiar. One may see it as the 'road less traveled' or in the words of Jesus, like going through the 'narrow gate', Matthew 7:13. However, Jesus tells that it is this narrow way that leads to life, Matthew 7:14. If we keep waiting for our Indigenous Catholic women to come and join the league, we may end up waiting for far too long.
May the Holy Spirit move us into action, like He moved the Apostles, and may Jesus accompany us on our journey. May Our Lady of Good Counsel intercede for us. Amen
Glory to Jesus - Honour to Mary!