Provincial CWL Spiritual Advisor
By Rev Peter Nnanga, MSP
December 2018.
People have asked me about the uniform I wear. This is the design of the CWO (Catholic Women's Organization) in Nigeria. I wear it just like wearing a normal Roman collar. Here are some pictures of me wearing it here in Canada.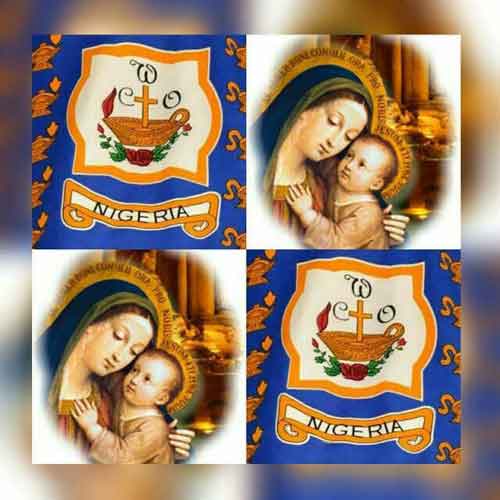 This is the design on the CWO uniform in Nigeria. CWO = Catholic women organization.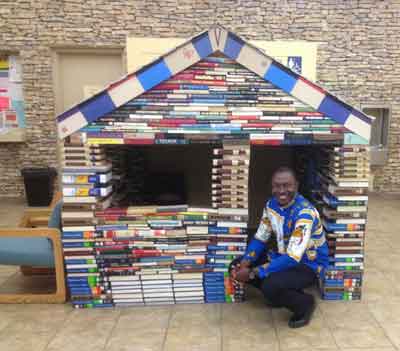 This was taken during my visit to the library in North Battleford in 2014.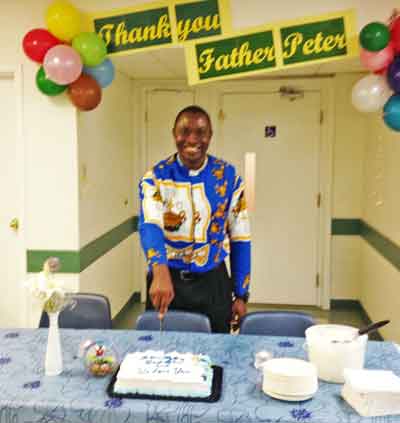 This was taken at Notre Dame Parish, North Battleford, Sk, at their
Thank You lunch in my honour after serving them in July 2014.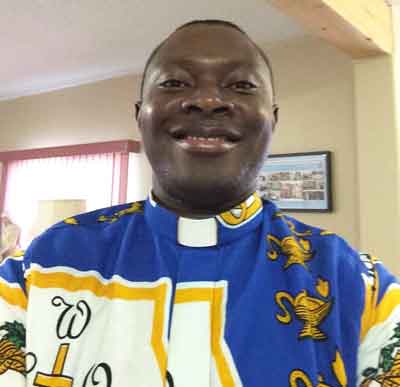 This one was taken at the rectory in Paradise Hill in 2015.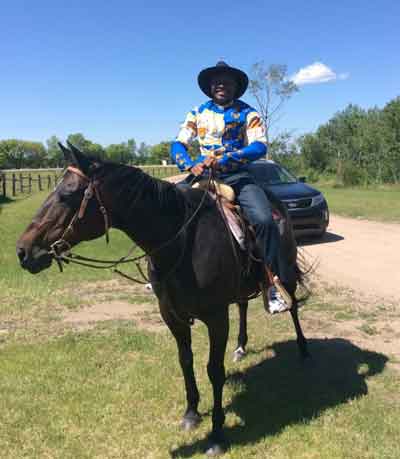 This was taken in Spiritwood in 2016.
---
The Need for the CWL members to bring in our Indigenous Catholic women into the League
By Rev Peter Nnanga, MSP
12 Oct, 2018.
As the new CWL Provincial Spiritual Adviser (PSA), I attended the Provincial CWL Convention in Regina in June 2018, and the National Convention in Winnipeg in August. Both conventions were very interesting, edifying, and a wonderful experience for me. I commend the women for their degree of commitment to the course of the League, and also for their active participation in the activities of the League at the conventions.
The CWL has a powerful voice in the Catholic Church in Canada. I congratulate the League for its achievements and successes in its 98 years of existence. Though I am still very new in the League, I did notice the absence of our Indigenous Catholic women at both the Provincial and National Conventions. I observed that we do really well in getting people to give us talks on Indigenous people and their culture. This is a necessity because we need this knowledge. However, in my observation there seems to be a definite lack in area of the next step which is taking practical steps to doing something to reach out to these ladies so that they are active participants as well.
As the Provincial Spiritual Advisor, I would like to suggest that our CWL members, especially members of the executive, at both the parish and diocesan levels, should move from the art of listening to talks on Indigenous people and culture, to the art of actually doing something tangible and practical in getting our Indigenous Catholic women involved in the League.
Practical Step: Two or three CWL members should visit the Indigenous parishes in their cluster or pastoral zone. They should attend Mass in that parish, and after the Mass, they should visit with the women, and get to know them personally. By wearing their CWL pin and other materials the CWL members show their pride in their league. It is necessary that the CWL members build relationships with the Indigenous Catholic women within their own Indigenous parishes, before inviting them into the League. This is what I call 'Christian friendship'. It is much easier to invite someone that is familiar to you or that you see as a friend to a program than someone that looks like a 'stranger'.
Our CWL members, especially those who are so experienced in the League, should make conscious and sincere efforts to involve our Indigenous Catholic women in the programs and activities of the League, through direct contact and invitations with our Indigenous Catholic women.
The CWL has a good and active voice in the Church, especially through its National Body; therefore, it is pertinent that we stress how important it is for our Indigenous Catholic women to be part of this voice in the Church and that we need them to help us to ensure their voices are heard.
This suggestion might look somehow daunting, because it demands the sacrifice of one's time and presence in an area that is not familiar. One may see it as the 'road less traveled' or in the words of Jesus, like going through the 'narrow gate', Matthew 7:13. However, Jesus tells that it is this narrow way that leads to life, Matthew 7:14. If we keep waiting for our Indigenous Catholic women to come and join the league, we may end up waiting for far too long.
May the Holy Spirit move us into action, like He moved the Apostles, and may Jesus accompany us on our journey. May Our Lady of Good Counsel intercede for us. Amen
Glory to Jesus - Honour to Mary!