Welcome One and All
The Saskatchewan Catholic Women's League website is here for you to see what all is happening in our wonderful province. If you wish to submit materials or pictures contact the Provincial President at: jean.r@sasktel.net. All items must be approved by the president and they will be forwarded to the web master.
One Heart, One Voice, One Mission has been our theme for the last two years and it speaks to all of us! But really hasn't that always been our theme in the CWL? Women working together for a common cause and making new friends as we go?
Have you taken in a "Catch the Fire" or a "S'Mores" workshop? Check our website for more details it is well worth your time.
To date Saskatchewan has 6,974 members in our CWL. The Provincial Council consists of 3 Diocesan Councils: Prince Albert 921 members; Regina 3,277 members; and Saskatoon 2,776 members.
The Mission Statement of the Catholic Women's League of Canada is: We are a national organization rooted in gospel values calling its members to holiness through service to the people of God.
- Jean Reader, Saskatchewan Provincial President
---
NEWS
SAVE THE DATE
National Convention in Charlotte PEI -- August 6-9, 2017
---
WHAT'S NEW ON THE WEBSITE
---
A NEW LOGO!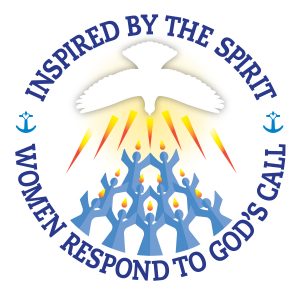 SYMBOLS AND MEANINGS:
DOVE: Holy Spirit - advocate, counsellor, intercessor
CLOUD & LIGHT: living, saving God of glory
FIRE: transforming energy of Pentecost
DISCIPLES: CWL members, responding joyfully to God's call in word and action
CROSS, ANCHOR & HEART
Faith--lived, professed, witnessed and spread
Hope--strength to sustain and preserve us
Love--the first and greatest of all virtues
PRAYER:
Spirit of the Living God open our minds to experience the unconditional love of God. Empower us with the gifts of your Spirit so that we may respond to God's call in joyful service. Inspire and bless the members of the Catholic Women's League so that the fruits of your Spirit may be evidenced in all that we say and do. Amen
---
Be sure to REGISTER YOUR VOLUNTEER HOURS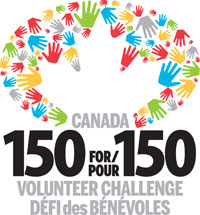 The Canada 150 for 150 Volunteer Challenge is a nation-wide campaign
to encourage Canadians to give 150 hours of volunteer time in 2017 in
celebration of Canada's 150th Anniversary. Sign up and show the hours
you devote to volunteering. You can read more about it HERE.
---
Catch the Fire! Download the PowerPoint Presentation, the soundtrack or a PDF!