WELCOME TO
THE SASKATCHEWAN CATHOLIC WOMEN'S LEAGUE OF CANADA WEBSITE
---
Lent is the 40-day season of preparation for Easter that ends on Holy Thursday, three days before Easter Sunday. During Lent, Catholics recall their baptism and do penance – fasting, prayer, and almsgiving as they commemorate the death and resurrection of Christ.
What is Ash Wednesday? It marks the beginning of the liturgical season of Lent. Palms from the previous Palm Sunday are burned – ashes from these palms are distributed on Ash Wednesday as a sign of penitence.
From the Canadian Conference of Catholic Bishops - Living Lent - click for PDF
Lenten video series from the Archdiocese of Toronto:
Ashes to Palms
Watch: Daily episodes on the YouTube playlist
---
Click to go to:
---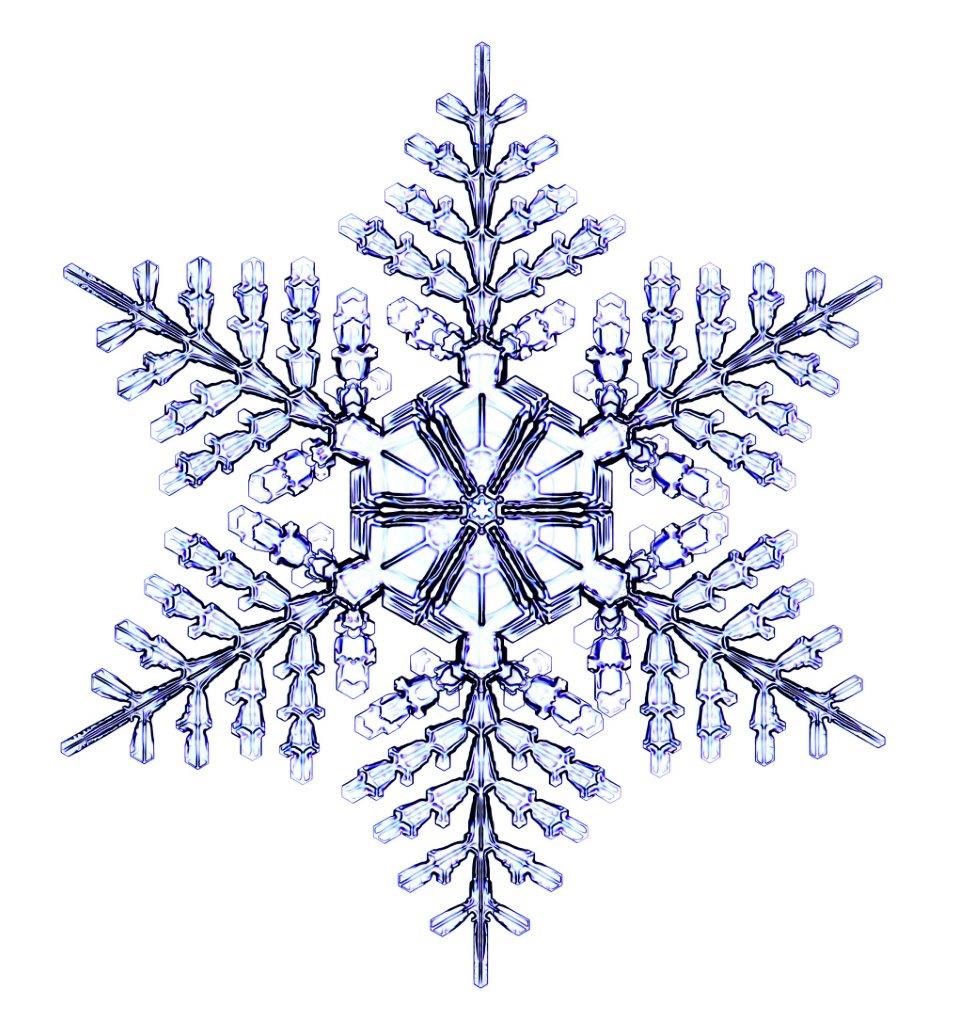 GREETINGS FROM THE CWL PROVINCIAL PRESIDENT
Dear Sisters in the League,
Over the past few months, the Catholic Women's League in cooperation with the Knights of Columbus and other concerned Christians have been working on a campaign to bring about provincial legislation to protect the conscience rights of all healthcare workers when dealing with euthanasian/medically assisted death. Medical professionals may feel the need to object to participating in physician assisted suicide for any number of reasons: faith, ethics, morals or the Hippocratic Oath. As it stands right now, doctors, nurses and pharmacists do not have adequate protection for their conscience rights under the federal legislation on assisted suicide.
This means that the provincial governments have the opportunity to create legislation that will protect the Charter of rights of conscientious objectors.
Last year, in Manitoba, a similar campaign resulted in their provincial government bringing this protection for healthcare workers into law. This was the result of the Knights, the CWL and other concerned faiths collecting 14,000 signatures.
We are hoping to collect at least 14,000 signatures for this campaign.
On the weekends of February 17th, there will be a pulpit announcement explaining the campaign and asking support for all those in the pews.
On the weekend of February 24th, there will be available at all parishes, pre-printed letters for each individuals to sign.
The Knights of Columbus have taken the lead on this undertaking, but they will need our help.
I am asking each CWL council to reach out to the K of C in their area and see where help is needed. There may be help needed in reading the script for the pulpit announcement and will definitely be a need for help on the 24th to assist in getting letters signed and collected.
If there is no Knights presence in a parish, perhaps the CWL will be needed do the pulpit presentation and oversee the signing and collection of the letters.
For those councils made up of members who attend different parishes, please ask each member to assist in her home parish in any way needed.
This is an extremely important campaign and the timing is very limited. Snowbirds and others who are not available on the 24th will be able to sign a letter online.
Please talk to your family and friends about this campaign and encourage them to be involved.
Also, please pray for success so that our healthcare workers will never be coerced into performing Medical Assistance in Dying (MAID).
I thank you in advance for your assistance.
Sincerely,
Margaret Schwab, Saskatchewan Provincial CWL President
---
Our Lady of Guadalupe Pilgrimage and Tour (Mexico)
Our Lady of Guadalupe Pilgrimage & Tour, Mexico City - with Bishop Bryan Bayda - Thursday, February 6 to Saturday, February 15, 2020. If you'd like your name on the interested/contact list: bandmbodnar@shaw.ca or call/text 306-262-1647. Prices & itinerary are not yet available. Limited spaces.
Share with anyone you think may be interested!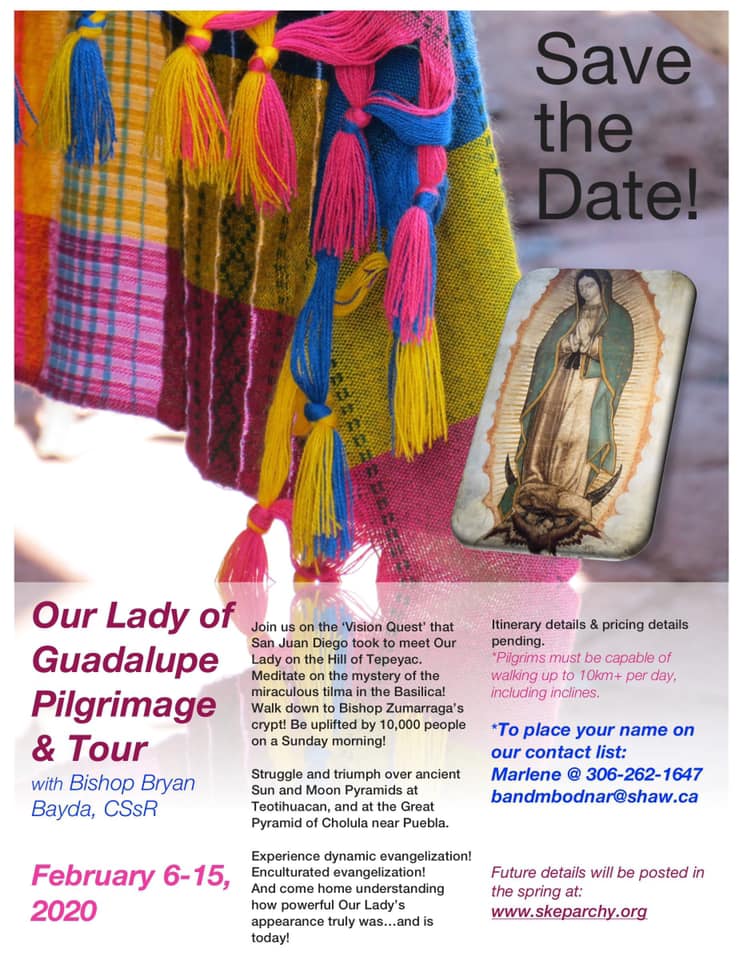 ---
Holy Land Pilgrimage for CWL Members
Join Catholic Near East Welfare Association (CNEWA) for the 6th annual Holy Land Pilgrimage for The Catholic Women's League of Canada members from June 22 - July 3, 2019 in Israel and Palestine.
Deadline to join is April 15, 2019. Visit the website HERE for more information.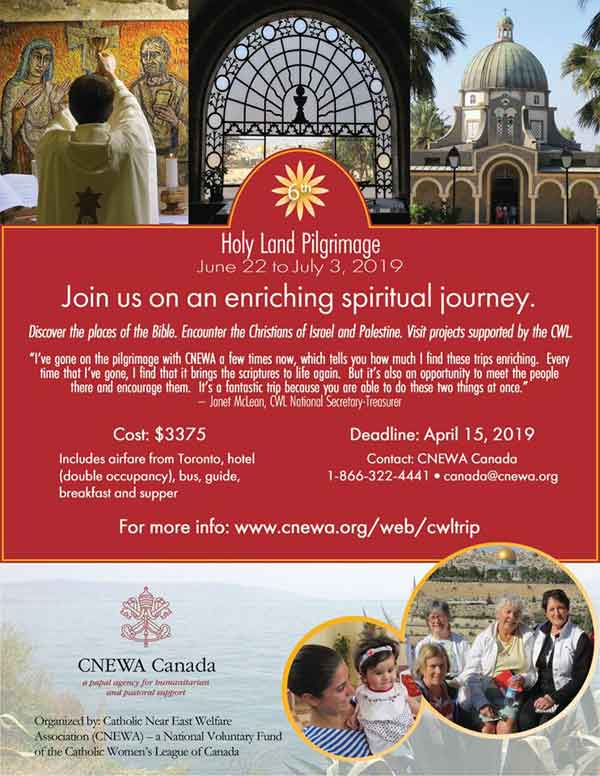 ---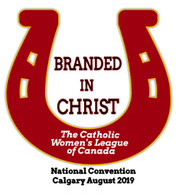 The 2019 National Convention will be in Calgary, August 18-21. You are invited to experience Calgary's Western Hospitality first hand this summer and be "Branded in Christ"! The Hyatt Regency Hotel, in the heart of Calgary, will be home to the convention. Have a a sneak peak of all the terrific tours and events planned!

HERE
The report from the 70th provincial Convention is up. You can read it

HERE

.
You can read the 2017 Annual Reports and the Oral Reports from the 2018 Prov. Convention

HERE

.
---
​​​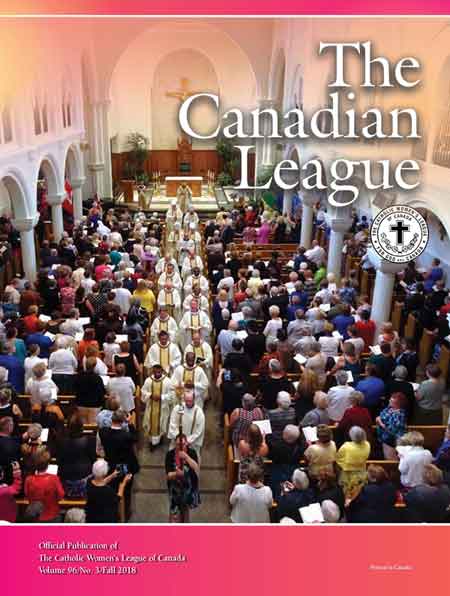 Do you read the The Canadian League, the national newsletter of the CWL? Keep in touch with what the CWL is doing at the national level. You can read it online HERE.
---
Click on titles for more information.
Saskatchewan Provincial CWL:
Provincial Communiqués and Annual Reports can be read HERE.
CWL Saskatchewan Dioceses:
You can now find reports from around the Dioceses under the "Events" page HERE including:
Diocesan Communiqués and Annual Reports:
---
Our new theme logo: Care for Our Common Home
For more information on the theme, you can download the powerpoint slides HERE
Or view the PDF file HERE