Connie Crichton
President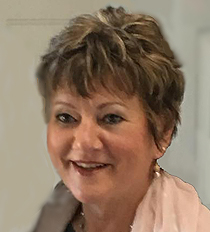 I was born and raised in Watson Saskatchewan. I attended the University of Saskatchewan and obtained a Bachelor of Commerce degree in 1977. I worked for the Federal government for 35 years and retired in the fall of 2012. I lived and worked in Regina for 23 years and transferred to Saskatoon in 2001 and remain here today. I married my husband Bill in 2004 and together we have five grown up children and six grandchildren who are the light of our lives.
I first joined Provincial Council in 2013 as Treasurer and served two terms in that position. I then completed a term as 1st Vice-president and Chairperson of Spiritual Development and a very long three-year term as President Elect and Organization Chairperson.
While my working life was spent working with numbers and managing people, I have largely spent my retirement working on my faith formation and building a closer relationship with Jesus. My first two years of retirement were spent in the Diocesan Lay Formation Program that was a life changing experience. It has led me to continue on the journey of growing in faith and continues to influence and enrich my spiritual life. I am a lay member of St. Marie Riviere Association that shares in the spirituality and mission of the Sisters of the Presentation of Mary. It is with this inspiration I hope to connect with the councils in our province and provide guidance in growing membership through connection with growing of faith, service, social justice, as well as developing members to take on leadership roles.
I am a Past–President of the St. Patrick CWL Parish council in Saskatoon and for the past five years a member of St. Mary's CWL Parish council where I have held the positions of Christian Family Life and Spiritual Development Chairperson. While I don't have a long history as a member of the Catholic Women's League, I have learned that being a member of the League can give Catholic women a support in their spiritual lives, develop leadership, contribute to society, and provide a fellowship and encouragement though life's ups and downs.
Before the pandemic I was actively involved in outreach ministries at St. Mary's parish, volunteer in Spiritual Care at St. Paul's hospital and Parkridge Centre Special Care Home. For seven years I went weekly to my granddaughter's Catholic school where my daughter also taught and listened to grade one students read. In the spring of 2018 I became involved in prison ministry where I played guitar for mass and visited with inmates. In 2016 my husband and I became involved in an outreach ministry "Back door" at St. Mary's Parish where we served sandwiches and hot drinks to area residents who were low income and, in some cases, homeless. This was a truly humbling experience. When this ministry closed, we began volunteering at our Indigenous Parish of Our Lady of Guadalupe making up and giving out food hampers to those in that community that were in need as well as purchasing supplies for our daily hamper program at St. Mary's parish. We have been a part of the Christmas hamper team for the past five years that provides over 300 hampers to families in the parish area at Christmas.
During the pandemic I obtained a certificate in "The Indigenous Pastoral & Lay Leader Ministry Education" offered by the Saskatoon Diocese. This consisted of four courses and 80 hours of Zoom classes and out of class work. This has prepared me for the hard work of putting reconciliation into action.
I was a treasurer for my husband's pensioners group for seven years, on the parish council and finance committee at St. Patrick for six years, two as chairperson and served as lector and Eucharistic minister. I am also a member of the Diocesan Justice and Peace Advisory Committee and a former member of the Diocesan Pastoral Council.
In May 2019 I began a five-year appointment to the Marketing Working Group for implementation of the strategic plan. This is a very exciting opportunity to contribute to building a strong organization that will benefit future generations. While the opportunities in the last two years to meet with members was not possible, I look forward to again gathering ideas from our provincial members as we present status reports on the implementation. I have met some very faith filled young mothers that invited me to join them in several small group bible studies. We need to find ways to attract these younger women to the Catholic Women's League.
I enjoy music, like to be outdoors, and love my three G's: Gardening, Golf, and Grandchildren. My husband and I also would like to travel again and are starting with a trip to the Maritimes in the summer of 2022.