Chantal Devine
Past-President/Archives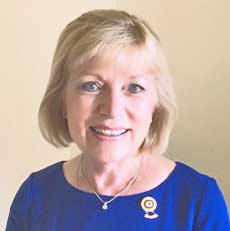 I've been a member of the Catholic Women's League since 1975. I served on the executive of Christ the King CWL in Regina as secretary and as president. In 2002, my husband and I left Regina, and moved to our ranch 30 minutes NW of Moose Jaw where we lived for 16 years. We were members of St. John the Evangelist Church in Marquis where I led the music ministry and served as legislation, resolutions and communications chairperson, and as secretary on the CWL Parish Council. In January 2018, we moved to Saskatoon and joined Holy Spirit Parish where I serve as a Sunday lector and sing in the choir.
I joined the Regina Diocesan Executive in 2008 and was chairperson of Christian family life and legislation, and served as Regina Diocesan President from 2011-2013. In June 2013, I joined the Provincial CWL Executive as communications chairperson and was also appointed to the board of The Catholic Health Ministry of Saskatchewan. From June 2015 to June 2017, I served as first vice president and spiritual development chair, and on June 6, 2017, I began my two year term as president elect and organization chair. On June 3, 2019, at the 71st Provincial CWL Convention held in Humboldt, Saskatchewan, I was installed as president of the Provincial CWL Council and received life membership in the League. I completed my eligibility to serve on the Emmanuel Care board (formerly known as the Catholic Health Ministry of Saskatchewan) on June 17, 2019 after serving three consecutive two-year terms. At the 74th Provincial CWL Convention held at Christ the Redeemer Parish in Swift Current, on June 5 & 6th, 2022, I accepted the position of past president in charge of archives.
As a result of being raised in a tri-lingual family and spending five years growing up in Belgium, I speak French and Luxembourg German. I am a French teacher and have taught for several years and continued to substitute teach with the Greater Saskatoon Catholic Schools until the start of the pandemic in March 2020.
My husband, Grant Devine, served as Premier of Saskatchewan for two terms which offered me the opportunity to meet and interact with many interesting people at home and abroad. We were exposed to numerous ethical, social and economic policy issues over that period of public life. On July 23, 2022 we will celebrate our 56th wedding anniversary. We have five children, fourteen grandchildren, one great-granddaughter, and three step-granddaughters.
When I'm not busy with CWL, or spending time with family, you will find me involved with theatre, golfing, reading or playing bridge.