COMMUNITY LIFE COMMUNIQUÉS
---
Lorraine Thibeault, Provincial Community Life Chairperson
Good Afternoon, Ladies and Reverend Nnanga:
It's nearing the end of my term as Chairperson for the Provincial Community Life Standing Committee. I express my thanks to you for all your work over the past two years or for the time you have worked in this position if you have joined us more recently. After our Diocesan Convention in June, your new provincial Chairperson will be in touch with you. Be sure to update her if someone has or is taking over your position.
I remind you that while our meetings may stop for the summer months, our work for God and Canada in community life is ongoing. I share with you a quote from the Decree on the Apostolate of the Laity which Regina Diocesan Chairperson for the Community Life Standing Committee quoted in her November 2018 communiqué.
"Wherever there are people in need of food and drink, clothing, housing, medicine, employment, education; wherever (people) lack the facilities necessary for living a truly human life or are afflicted with serious distress or illness or suffer exile or imprisonment, there Christian charity should seek them out and find them, console them with great solicitude, and help them with appropriate relief. This obligation is imposed above all upon every prosperous nation and person."
How are your parish councils doing with the H.U.G. initiative? While National wants to know the number of bags that we have donated to shelters for women and children by the time of the National Convention, we do not have to stop preparing the bags. This can be an on-going project as there are always women and children in need.
In January, I sent out a list of Short and Long Range Plans based on Marie Rackley's, our National Community Life Chairperson's, list for herself. If you chose to pursue some of these plans, did you find it helpful to have made those plans?
Our on-line annual survey outlines very well what our standing committee is about. Along with this mainly 'statistical' information, I believe that it is good to allow our councils to share the 'stories' behind the statistics. Ask your parish councils to share at least one story about a community life project that they undertook during the year. Other parish councils love to hear these stories and often choose to try out a similar project.
Remember our foci under Community Life:
Dignity and Rights of Persons
Social and Economic Justice:
Refugees, Immigration and Citizenship
Canadian Catholic Organization for Development and Peace (CCODP): Developing Countries
Developing Countries
Take care. God bless.
---
Lorraine Thibeault, Provincial Community Life Chairperson
Happy New Year! I hope that you had a joyful Christmas season. May you have a blessed and productive year in 2019. Thank you for all your work as the Diocesan Community Life Chairperson in your diocese during 2018.
As a parish Community Life chairperson, I was able to access the on-line annual survey. Along with the outline in the Executive Handbook, I find the questions on the survey to be a good rundown of what the Community Life chairperson position involves. I found that there were so many things that our council didn't involve themselves in. However, there were many other areas which we did act on. Community Life is such a broad area. I find that the annual survey is a good reminder of things that our councils can do in this area. If you haven't seen the survey, let me know, and I will send you the questions.
Since I last wrote to you in October, our National Community Life Chairperson, Marie Rackley has sent out a list of Short and Long Range Plans for herself which can apply to us as well. I have included them at the end of this communiqué (but not in the website version). I have crossed out items that don't apply to us and adjusted ones that apply to us in a different way. I believe Marie's plans will help us with our work in Community Life throughout the year.
Dignity and Rights of Persons: I encourage parish Communications chairs to choose a different human right (listed in the Universal Declaration of Human Rights, a copy of which was sent to you last year) and to discuss it with their members. Our responsibility continues to denounce social injustice and the violation of human rights at home and abroad.
Social and Economic Justice: I was reading a newsletter from Girl Guides of Canada which listed projects done by the Trefoil Guild group. These women, 30 years of age and over, are former leaders who continue Guiding through social and service activities. Here is one of their service projects as described by the group leader: "We sponsor H.O.P.E. Outreach (Helping Out People Exploited) which does street outreach for women who are homeless and in the sex trade on the streets of downtown Vernon. We take out wagon carts filled with hygiene products, clothing, shoes etc. We also take out water, fruit, yogurt and other treats, necessities for homeless street life. We pull together to bring delightful gifts to our carts. Baby wipes are repackaged into small bags. Our "super seamstress" has made zippered small bags, stylish bathing suit bottoms. Also gifts of hair brushes and hair goodies...chocolate treats...socks and underwear, colouring pencils, pens and pencils, journals, designs to colour as well as twenty pull string backpacks for Christmas gifts. The "wish list" is to fill the bags with lip gloss, hand lotion, hand and feet warmers, socks, mitts, toques and scarves. We are often asked "where we get our cart items" and we are proud to say the Girl Guide ladies give to our carts. In all the sadness and ugliness of homeless street life, a lot of women share fond memories of being a Brownie and Girl Guide. Our sponsorship of H.O.P.E Outreach touches many ladies and is greatly appreciated - we do make a difference in their lives. [Wouldn't you say that this is "community life" in action in our community? Do you have other organizations that your ladies are involved in which focus on social and economic justice?]
Refugees, Immigration and Citizenship: I encourage parish CWL councils to continue supporting refugee families. If you are too small to sponsor a family on your own, you can fundraise and donate to another parish or group that is sponsoring a family.
Canadian Catholic Organization for Development and Peace (CCODP): The CCCB continues to review the CCODP partner groups some of which appear at odds with the moral teachings of the Catholic Church. Let us keep this group in our prayers as the review continues.
Developing Countries: Have any of your parish councils become aware of the struggles of a developing country? If yes, ask them to share what they have discovered and what they have done to make a difference in that country.
Resolutions: We continue to approach the government on the issue of the attestation requirement re: Canada Summer Jobs Program. Resolution 2018.01 regarding the attestation requirement fits under the Community Life Standing committee and can be found on the National website (cwl.ca) under Resolutions. Encourage your parish councils to take action by writing letters and by becoming educated on the Canadian Charter of Rights and Freedoms.
"Forgiveness is the greatest miracle. Nothing falls outside the scope of God's power to forgive, to resurrect and make new, fresh, innocent and joyful again." Fr. Ron Rolheiser
Take care. God bless.
---
Lorraine Thibeault, Provincial Community Life Chairperson
It's the day before Thanksgiving, and we are so blessed. There are so many things, people, and situations to be thankful for in this beautiful country of Canada. One of these people is you. Thank you for being your diocesan Community Life Chairperson.
We say, "Adieu" to Betty Colaneri, past National Community Life Chairperson. In a closing letter, she spoke of our actions during her time as chairperson: walking in compassion with those suffering from poverty, homelessness, domestic violence, human trafficking, incarceration, racism and bullying, selflessly giving of our time, talent and financial donations to community organizations, food banks, hospitals, shut-ins and long-term care facilities, standing up for social and economic justice, gaining insight into the needs of immigrants and refugees, touching lives, and inspiring hopes, dreams, and dignity.
We have a new National Community Life chairperson, Marie Rackley. She is from St. John, New Brunswick, and has been a League member since 1971. We welcome her to our team. She says, "The League has given me faith to grow and the strength to accept the challenges of today. Many friendships have been formed with members which I consider sisters to my extended family.
Resolutions: One of our three National resolutions that we are working on this year falls under the Community Life Standing Committee: 2018.01 Attestation Requirement on Canada Summer Jobs Program Whereas, the application process for the 2018 Canada Summer Jobs program required applicants to deny their basic rights under the Canadian Charter of Rights and Freedoms; and Whereas, applicants were compelled to endorse an attestation of values promoted by the federal government that contravene the Canadian Charter of Rights and Freedoms; and Whereas, by way of the attestation requirement, Canadian youth are being denied work experiences and opportunities through businesses and organizations that ethically cannot sign the attestation; therefore, be it Resolved, that national council of The Catholic Women's League of Canada in 98th annual national convention assembled urge the federal government to remove the attestation for all future Canada Summer Jobs programs. We must look into this resolution further, understanding that businesses interested in applying for financial help to offer summer jobs feel very strongly about the limitations imposed on them by the decision of the federal government.
Dignity and Rights of Persons: Choose one of the human rights listed in the Universal Declaration of Human Rights (a copy of the entire Declaration was sent to you last year). Encourage parish Community Life Chairpersons to discuss this with their members. You can also go on the internet and google Universal Declaration of Human Rights. It is our responsibility to denounce social injustice and the violation of human rights at home and abroad.
Social and Economic Justice: We always have someone in need in our communities. Consider those who are vulnerable and find ways to protect them with love and justice. Remind members that the little things count. My parish council has three "little" projects which fit this category, but the members don't think of them as social and economic justice. The projects are:
Loved and Warm: We knit or buy toques and mitts for elementary school children.
Headbands for the Homeless: We knit or crochet headbands for the adult homeless in our community.
Refuge for Refugees: We raise funds which we pass on to a larger parish which is sponsoring a refugee family.
Refugees, Immigration and Citizenship: With Thanksgiving Day starts Citizenship Week in Canada [October 8 – 14]. Are any of your members or their relations becoming citizens? Let's encourage our members to welcome our new Canadians by participating in their citizenship ceremonies, hosting a party for them, sending them welcome cards. Just as in Baptism, a parish welcomes a child or an adult into the parish community, we, with a citizenship ceremony, welcome a person into our country. Let us make them feel welcome. Marie Rackley, shares a variety of celebratory activities in her communiqué: fly the Canadian flag, reaffirm your citizenship, share your citizenship story. Perhaps, we can celebrate with a Canada-themed cake.
Canadian Catholic Organization for Development and Peace (CCODP): While the National CWL assesses the situation with the CCODP, we should keep in mind all the good work of this organization over the years. Let's pray that God's will be done in this situation.
Developing Countries: Let us be aware of the struggles of developing countries. Choose a developing country. Learn about its people, its passions, and its struggles. Find a way to help. Start with prayer.
"The next time you put on a pair of shoes, be Dorothy [from the Wizard of Oz] for a moment. Click your heels, remember the power of the spirit you have within and ask yourself, who will you be walking with today?" Betty Colaneri, past National Community Life Chairperson
Take care. God bless. Have a Happy Thanksgiving!
---
Lorraine Thibeault, Provincial Community Life Chairperson
"It's a beautiful day in the neighbourhood" as Mr. Rogers would say. The sun is shining and big puffy white clouds are floating across the sky. The breeze is brisk so the mosquitoes are not staying long enough to be a bother. Welcome to all our new diocesan community life chairpersons.
I hope that many of you were able to take in some of the activities for National Indigenous Peoples Day on June 21. We celebrated indigenous peoples' culture and heritage. The outstanding contributions of First Nations, Inuit and Metis peoples were recognized and celebrated. Betty Colaneri, National Community Life Chairperson, recommends that we take the time to check the federal government website to learn about the creation of National Aboriginal Day and how it became a part of the Celebrate Canada program.
In her recent communiqué, Betty talked about watching the movie Indian Horse. She stated: "I recently attended a viewing of the movie Indian Horse based on the novel by Canadian author Richard Wagamese. The story depicts how eight-year-old Saul Indian Horse is torn from his Ojibway family and taken to a residential school. It is a dramatic story of his journey of loss, fear, hope and resilience. Even though it was extremely emotional for me to watch, I highly recommend viewing it."
I also recently watched the movie Indian Horse and also found it very sad and touching. Part of the movie took place in the area where I grew up in Ontario, and this made me recall how indigenous peoples were treated during my elementary and high school years. I also recommend viewing the movie.
Although National Indigenous Peoples Day has passed for 2018, there are many activities and celebrations continuing to happen across Canada which have an indigenous focus. Here are a few that you and your members might be interested in. Check Google for more information on these activities.
Indian Village at the Calgary Stampede July 6-15, 2018 in Calgary, AB – For more than 105 years, the First Nations of Treaty 7 have camped at the Calgary Stampede. In 1912, First Nation peoples were not allowed to celebrate their own culture because of oppressive laws in Canada. For more than 50 years, the Calgary Stampede was the only place in Alberta where Indigenous people could gather and practice culture, celebrate community and express their traditions publicly. Today, the original families continue to meet at the Calgary stampede each year and present their history, culture and traditions to visitors from around the world.
Great Northern Arts Festival July 13-22, 2018 in Inuvik, NWT – Given the remote locations of most Northern communities, it is vital that artists be given the opportunity to access markets and buyers, as well as attend professional development workshops and seminars. To help accomplish this goal, the Great Northern Arts Society offers workshops and seminars on pricing, marketing, creativity, funding sourcing and grant-writing, artistic integrity, artist biography writing, and many other educational subjects. At the Festival, to promote the art actually created by Northern artists, we show a vast an array of artwork as possible, in medium, technique, and inspiration.
Back to Batoche Days July 19 – 22, 2018 in Batoche, SK – I am hoping to take in some of these activities. My family (husband and children) are Metis with roots in the Red River Valley, Manitoba. Every year, Back to Batoche Days celebrates the Metis culture. At Batoche, you will see chuck wagon and chariot races, jigging, horseshoe and bannock competitions as well as a variety of artisan goods and crafts. Special programming and activities are available at both the Batoche National Historic Site and the Back to Batoche Festival Grounds located 1 km north of Batoche.
Moosehide Gathering July 26-29, 2018 in Dawson City, Yukon The Moosehide Gathering is a biennial summer event founded in 1993 by a group of dedicated Tr'ondëk Hwëch'in (Hän) people who wanted to celebrate their cultural traditions. It is an inclusive event that brings together people from across Canada as well as Alaska and beyond. Come share in Tr'ondëk Hwëch'in and other Indigenous culture – enjoy performances, guest speakers, feasts, dancing, drumming, singing and more.
Treaty & York Boat Days July 31 – August 5, 2018 in Norway House, MB – Held since 1973, Treaty and York Boat Days is an annual summer festival hosted by the Norway House Cree Nation. The event commemorates the community's history during the time of the fur trade and emphasizes family and cultural values.
Innu Nikamu Festival August 2-5, 2018 in Mani-Utenam, QC – The Innu Nikamu Festival is a major cultural event that brings together indigenous and non-indigenous artists from across the continent in Mani-Utenam, on a large and vibrant outdoor stage. Musicians, performers, composers, dancers, storytellers, rappers and elders accompany each other, accompanied by a traditional drummer, in front of an audience of several thousand festival-goers.
Montreal First Peoples Festival August 8-15, 2018 in Montreal, QC – The Montreal First Peoples Festival is a multi-disciplinary, multi-sensory experience celebrating 11 different indigenous nations from around Quebec. For a week, events from music to dance, from film to art, and from poetry to electro take place at the Place des Festivals in downtown Montreal as it is transformed into a full cultural immersion of the First Peoples.
Pow Wows are happening across Saskatchewan throughout the summer. Be sure to take in one near you. The jingle dance competitions and the drumming are great. Google 2018 Pow Wow Calendar Saskatchewan to learn about what a pow wow is, pow wow etiquette, pow wow singing, dance styles and to find a pow wow near you. Also check out Metis jigging and fiddling competitions near you. Check out the Saskatchewan Indian Cultural Centre – www.sicc.sk.ca – for information on the language, culture, arts, history and current affairs of of First Nations people in Saskatchewan. In the fall, invite an indigenous woman to your meeting to speak about her background and about how she and her family celebrate the different seasons and special days throughout the year.
Take care. God bless. Have a wonderful summer.
---
Lorraine Thibeault, Provincial Community Life Chairperson
Today as I was reviewing the responsibilities of Community Life chairpersons, I was reminded of our responsibility as Community Life chairpersons and as Christian women and representatives of the Catholic Women's League of Canada to become familiar with the Universal Declaration of Human Rights.
While I was aware of this declaration, I had never made a point of reading it from beginning to end. I link to it here for you and encourage you to share it with your diocesan counterparts. Perhaps parish CWL councils can take one or two sections of the declaration to see if what they do in their councils meets the intent of the declaration. You can read it HERE at the United Nations website.
Traditional Irish Blessing
May the road rise to meet you. May the wind be always at your back.
May the sun shine warm on your face, the rains fall soft upon your fields.
And until we meet again, may God hold you in the palm of his hand.
May God be with you and bless you. May you see your children's children.
May you be poor in misfortune, rich in blessings.
May you know nothing but happiness from this day forward.
May the road rise to meet you. May the wind be always at your back.
May the warm rays of sun fall upon your home.
And may the hand of a friend always be near.
May green be the grass you walk on. May blue be the sky above you.
May pure be the joys that surround you.
May true be the hearts that love you.
Take care, friends. God bless.
---
Lorraine Thibeault, Provincial Community Life Chairperson
Prior to beginning this communiqué, I googled "sayings about community life" and found a wonderful collection of sayings. Here are three of the many I found:
"To move forward, you have to give back." Oprah Winfrey
"Life's most persistent and urgent question is, "What are you doing for others?" Martin Luther King, Jr
"Help the life of one person and you can help the community." Steven Sawalich
Perhaps as Community Life Chairpersons, we can choose a saying that reflects our work on Community Life. Our parish chairpersons could begin their reports with a saying then ask their members to share what that saying means to them.
---
Betty Colaneri, National Chairperson of the Community Life Standing Committee, sent her National Communiqué #7. She wants us to be aware of a government program that has recently made a change to its requirements. Canada Summer Jobs (CSJ) is an initiative of the Summer Work Experience program that provides wage subsidies to employers to create employment for secondary and post-secondary students. Applications are accepted from small businesses, not-for-profit employers, public sector and faith-based organizations that provide quality summer jobs for students.
Because the communiqué refers to different articles in the Globe and Mail, the National Post, and comments of the Prime Minister and the employment Minister, I have included the entire communiqué's wording as sent to me. My comments are in italics.
"Canada Summer Jobs Program – Conflict of Religious Freedom - As a Catholic business owner, I was appalled to read that a government program we previously applied for would no longer be an option. According to the Government of Canada website, www.canada.ca/en/employment-social-development/services/funding/canada-summer-jobs.html Canada Summer Jobs (CSJ) is an initiative of the Summer Work Experience program that provides wage subsidies to employers to create employment for secondary and post-secondary students. Applications are accepted from small businesses, not-for-profit employers, public sector and faith-based organizations that provide quality summer jobs for students. Unfortunately, the program has been changed. Applicants will now "be required to attest that both the job and the organization's core mandate respect individual human rights in Canada, including the values underlying the Canadian Charter of Rights and Freedoms as well as other rights. These include reproductive rights and the right to be free from discrimination on the basis of sex, religion, race, national or ethnic origin, colour, mental or physical disability, sexual orientation or gender identity or expression.
The government recognizes that women's rights are human rights. This includes sexual and reproductive rights — and the right to access safe and legal abortions. These rights are at the core of the Government of Canada's foreign and domestic policies.
The objective of the change is to prevent Government of Canada funding from flowing to organizations whose mandates or projects may not respect individual human rights, the values underlying the Charter of Rights and Freedoms and associated case law. This helps prevent youth (as young as 15 years of age) from being exposed to employment within organizations that may promote positions that are contrary to the values enshrined in the Charter of Rights and Freedoms and associated case law."
An article in the Globe and Mail, stated it perfectly. "Liberals must remember their values aren't the only ones that count." www.theglobeandmail.com/opinion/liberals-values-oath-is-odious-and-kills-jobs/article37664329/. According to the article, 69,000 young Canadians found summer jobs in 2017 in small businesses and charities. It also states that important jobs are at stake since there are many jobs that have students working to help settle refugees, summer camps, daycares, drop-in centres, at-risk youth, assisting the homeless at shelters and soup kitchens that all teach valuable life lessons.
Prime Minister Justin Trudeau has expressed that he believes passionately in a woman's right to choose and strongly opposes all forms of discrimination based on sexual orientation or gender expression. Mr. Trudeau told the National Post, "We are not limiting freedom of expression or freedom of belief in any way, shape or form. We are simply saying that organizations who have the explicit purpose of limiting and eliminating Charter rights like women's rights do not qualify for government funding."
Government officials insist that churches and other faith-based groups can still apply for the program if they don't create jobs specifically dedicated to such things as preventing women from obtaining an abortion.
The National Post reported Canada's Employment Minister, Patty Hajdu, stated, "churches and other religious groups are eligible for a federal grant to hire summer students as long as their core mandate agrees with access to abortion." She also stated that she is comfortable with the attestation which requires applicants to check a box saying that they have a core mandate that respects "reproductive rights". The online application can't be submitted unless the box is checked. The bottom line is, if you don't tick the box accepting this condition, your application is rejected.
nationalpost.com/news/politics/a-churchs-core-mandate-must-be-pro-choice-to-access-summer-jobs-grant-employment-minister-says
The Toronto Right to Life Association has already filed a federal court case arguing their Charter rights are being violated by this attestation. Blaise Alleyne, president of Toronto Right to Life stated, "Our conscience compels us to not sign that attestation. It is a violation of our freedom of conscience and freedom of expression for the government to compel speech or else punish us by withholding an unrelated benefit."
The Canadian Conference of Catholic Bishops released a statement stating the attestation "seriously undermines the right to religious freedom since the Government of Canada is directly limiting the right of religious traditions to hold, teach and practise their principles and values in public. Furthermore, the recently announced policy represents an attempt to restrict the voices of faith communities in Canadian democracy and to limit their participation in the public square." www.cccb.ca/site/eng/media-room/statements-a-letters/4865-canada-summer-jobs-cccb-concerns-and-statement
What if this is the beginning of other programs that will be affected? Time is of the essence! Contact your local MP and Minister of Employment to voice your concerns. Inform League members, other organizations, businesses and Canadians in general that will be impacted by the change to the program.
Our company for one definitely will not apply for the Canada Summer Jobs program.
Betty Colaneri, National Chairperson of Community Life"
I encourage you to investigate this situation, to do some critical thinking, and if you are concerned to contact your local MP and Minister of Employment to voice your concerns. Take time to reflect on what this means to us as individuals, as Catholics, as Canadians. Will other programs require the same attestation before a business is funded? Inform other League members, organizations, businesses and friends about this requirement for subsidy. It may be important to them too.
Take care. God bless.
---
Lorraine Thibeault, Provincial Community Life Chairperson
Here in Meadow Lake, it is -21 degrees, and I am getting ready to walk to work anticipating the cold breeze on my face and wondering if I will survive my 15 – 20 minute walk.
I recently received a communiqué from Betty Colaneri, National Chairperson of the Community Life Standing Committee. She has urged the Provincial Chairpersons to quickly pass on some additional information concerning the first World Day of the Poor.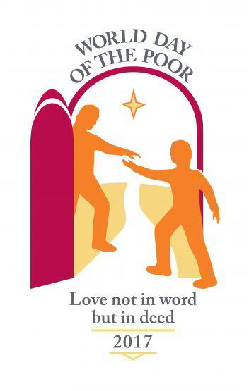 This year's celebration is entitled "Love not in word but in deed." (1 John)

To be celebrated on the 33rd Sunday of Ordinary Time (this year, the date is November 19) at the request of Pope Francis

Pope Francis invites the church and people of other faiths around the world to love and cater to the poor, insisting that acts of generosity and kindness must not be limited to occasional volunteer work, but must strive to find the origins of injustice that will lead to a true encounter with the poor.

He emphasizes the encounter as an opportunity for evangelization, and encourages people to make real gestures of mercy.

Pope Francis will preside at a mass in St. Peter's Basilica during the November 19th celebration and will invite 500 of the poor to the Vatican to join him for lunch in the Paul VI Audience Hall immediately following the mass.

The logo for the World Day of the Poor depicts an open red door where two figures on either side reach for each other with outstretched hands. The star illustrated on the upper half of the logo represents the opportunity to evangelize.

Pope Francis requests that prayer and more specifically the Our Father, referred to as the prayer of the poor, be the centre of the celebration stating "Our asking for bread expresses our entrustment to God for our basic needs in life. Everything that Jesus taught us in this prayer expresses and brings together the cry of all who suffer from life's uncertainties and the lack of what they need. The poor are not a problem. They are a resource from which to draw as we strive to accept and practice in our lives the essence of the Gospel."

Catholic Relief Services created a parish packet which includes a bulletin insert, prayers, homily helps, and general intercessions to help parishes learn about and observe the World Day of the Poor (crs.org/get-involved/learn/resouirce-center/world-day-poor-resources)
What can we do to commemorate the first World Day of the Poor? Even if we celebrate it as parish CWL councils on a different day, the intent remains. Please let me know of your actions for the poor throughout the year.
OPEN THE DOORS OF MY HEART
A PRAYER FOR THE WORLD DAY OF THE POOR
"As long a Lazarus lies at the door of our homes, there can be no justice or social peace."
[Check the World Day of the Poor website]
Take care. God bless.
---
Lorraine Thibeault, Provincial Community Life Chairperson
International Peace Day: Although we have passed the date for International Peace Day with the theme "Together for Peace: Respect, Safety and Dignity for All", we can continue to commit to work towards building a culture of peace. For information, visit www.un.org/en/events/peaceday/ and decide as a diocese or as a parish CWL to focus on this theme in your actions and decisions. Women are a strong force in the movement for peace with statistics showing that agreements are 35% more likely to remain in effect when women are involved in peace negotiations. Visit the Development & Peace website – devp.org/en/articles/international-peace-day-show-your-support-women-and-peace. Remember our 1% initiative: Since 1969, the League has encouraged members to set aside 1% of the cost of all personal items purchased to fund improvements to the status of women in the global south, specifically for projects in Haiti, Sierra Leone and Afghanistan.
Dignity and Rights of Persons: Betty Colaneri, National Community Life Chairperson, wrote: Resolution 2017.01 Full Implementation of the Supreme Court Decision in R. v. Gladue for Indigenous Offenders was adopted at the 97th annual national convention. Refer to the resolution and encourage implementation of the action plan. I recently attended "Celebration of Nations, A Gathering of Indigenous Arts, Culture and Tradition, an Indigenous arts gathering that celebrates creativity, diversity and resilience". 'They specialize in educating the public about the deep-rooted beauty and uniqueness of each nation's culture, heritage, and traditions through different artistic mediums". It promotes walking together with compassion, understanding and respect while cultivating an inclusive community toward a shared future, experiencing music, teaching, film, visual arts, workshops, dance and theatre. Learn more at celebrationofnations.ca/. Consider inviting a member of the Indigenous community to provide a presentation or workshop. I had the opportunity to attend a Metis Dot Art on Rocks workshop and the Da-giiwewaat "so they can go home" Moccasin Project. Both workshops focused only on the task at hand. Making moccasins for babies knowing that they are going to help Indigenous children was a good feeling. Learn more about Da-giiwewaat at sotheycangohome.com/. Consider making this a council activity."
Keep in mind and prayer all the communities that have been and continue to be affected by natural disasters – fire, flood, wind, and storm. Peaceful community life is difficult to maintain in the midst of these disasters.

It is never too late to focus on and act for peace. Take care. God bless. Lorraine
---
Lorraine Thibeault, Provincial Community Life Chairperson
Welcome to Summer! For some of you, the rain has been pouring down, and you would like a little more sun; for some of us, the sun has been shining, and we'd like a little more rain. Whatever we're experiencing, we are grateful to be able to "stop and smell the roses". What? You say, "You haven't stopped and smelled the roses." I think that it's time to do so. Right now! If, like me, there are no roses near you, then stop and smell the fresh air.
Welcome to all our diocesan chairpersons of the Community Life Standing Committee. Some of you will be new to the position; some may be into the second year of your terms. If you are no longer the diocesan chairperson, please pass this communiqué on to the right person. I will revamp my distribution list as I receive the names and contact information of new chairpersons from the dioceses.
Diocesan Presidents, these are the names as your Community Life Chairpersons: Prince Albert – Dhadha DeLeon; Regina – Bernice Gobeil; Saskatoon – Wendy DeSa. The sheet I have says 2015 – 2017, so you may have changes since this sheet was printed. Please let me know.
Community Life continues on even though our councils may have taken a siesta for the summer months. The information that I am sending will be useful to you personally throughout the summer and can be passed on to your parish counterparts in Community Life for their September and future meetings.
My name is Lorraine Thibeault, and I am your new provincial chairperson of the Community Life Standing Committee. I live in Meadow Lake (which is about 1½ hour's drive north of North Battleford). I have three adult children. Two live in Meadow Lake; one lives in Calgary. I grew up in Northwestern Ontario in a very small community (under 2000 in population). My husband and I moved a lot in Ontario due to my husband's work with forestry. In 1991, we moved to British Columbia, where we again moved around with my husband. In September of 2015, we moved to Meadow Lake for my husband's work.
I have held most CWL chairperson positions at the parish and diocesan levels. When I left British Columbia, I was the Communications chairperson on the BC & Yukon Provincial Council. I am presently the parish president for Our Lady of Peace Parish CWL in Meadow Lake and sit on the Parish Pastoral Council as the CWL representative. I have just taken on the position of Communications chairperson for the Prince Albert Diocesan CWL Council. Also, my husband and I form a team as lay representatives for Deanery 6 in the Diocese of Prince Albert (not a CWL position).
Besides my involvement with parish and CWL activities, I am the Saskatchewan Provincial Loans Advisor for Girl Guides of Canada, and I am a leader for our local teens in the Pathfinder and Ranger programs of Girl Guides of Canada. I sing in the annual Christmas choir and on Sundays in our parish choir. I belong to our local drama group. I work full time at a pharmacy as a front store clerk as well as in the dispensary as a pharmacy assistant when things get busy there.
I would love to know of your involvement in the CWL, in your parish, and in your community as well as about your family. Please send me an e-mail or letter introducing you to me. Perhaps we will meet at the Fall Workshop which is scheduled for October 14th at St. Therese in Bruno. Perhaps we'll meet at the next provincial convention in Regina.
At our recent Provincial Convention in North Battleford, our former chairperson of Community Life reminded us of the upcoming 150th anniversary of our country and of the 50th anniversary of the Canadian Catholic Organization for Development and Peace. I wish you a wonderful celebration as you join in your community 150th anniversary activities on July 1st.
In her latest national communiqué (March 27, 2017), our national chairperson of Community Life, Betty Colaneri shared the following information:
CCODP: The Canadian Catholic Organization for Development and Peace's (CCODP) first Share Lent campaign took place in 1968, raising $1.35 million, and was used to carry out projects in 32 countries. "For Lent 2017 Development and Peace – Caritas Canada had chosen to put women at the forefront to highlight the very special importance and role they have in every aspect of development, whether it be social, environmental or economic" (

devp.org/en/sharelent-2017

).

Be mindful of the homeless and abandoned in our midst. Jesus taught us that we are not only to receive the mercy of God but to practice mercy towards others. Put into action your corporal works of mercy by visiting those who have no one, are lonely, in hospitals, care facilities and prisons or by helping the homeless.

Pope Francis encourages women to be the ones to make things happen.
"A world where women are marginalized is a barren world because women not only give life but they also transmit the ability to see beyond, to see beyond themselves. They transmit the ability to see the world with different eyes, to feel things with a more creative, patient and tender heart" (Pope Francis).
Recently our new provincial president, Margaret Schwab, sent out information about the Famine Relief Fund sponsored by Development and Peace. Below is a synopsis of the information. The main emphasis at this time is that the government will match donations until June 30 of this year. That's not a lot of time from today, but it is quite easy to make a donation.
National Appeal

to help address the famines in South Sudan and the extreme food shortages in Yemen, northeast Nigeria and Somalia.

One of the world's largest humanitarian crises since the Second World War:

In February 2017, the United Nations declared there are 20 million people, including 1.4 million vulnerable children, at risk of death over the coming months in these four countries.

This crisis results from ongoing armed conflicts and severe droughts

The religious leaders' "unified cry from the heart" calls for a threefold response from their faithful:

Pray: To remember the people of South Sudan, Somalia, northern Nigeria and Yemen in their personal and community prayer, and to pray also for peace, for government leaders and for humanitarian workers in the region.
Give: To make a financial contribution to one or more of the various reputable Canadian aid agencies working to alleviate this crisis. Contributions made to a recognized Canadian charity between 17 March to 30 June 2017 will be matched by the Government of Canada with its recently announced "

Famine Relief Fund

". Contact :
Speak out: To take the time to become better informed about the crisis in the four countries; to speak about it with family, friends and neighbours; to discuss it with local community agencies; and to contact Members of Parliament.
I encourage you to take some time this summer to review your duties as the chairperson of the Community Life Standing Committee in your diocese:
Dignity and rights of persons

Social and economic justice

Refugees, immigration and citizenship

Canadian Catholic Organization for Development and Peace

Developing Countries
With these duties, we as Community Life chairpersons should never attend a meeting or send a communiquée and say that we have nothing to report. Dignity & rights, justice and injustice, refugees, help for citizens in third world countries – these issues are always with us. They knock on the doors of our lives. We have only to open the door as we make the choice to let them in.
Take care as we exist in community with God's people, and may God bless you each moment of your life.
Lorraine
---
June Gorgchuck, Provincial Community Life Chairperson
Happy New Year to All.
As we begin this new year we see there is still a lot of violence in the world. There is violence everywhere, in our country, province community and even in our families.
What can we do? Anything? How can respect and good relations be promoted in order to build peace? Members must be an example to others when promoting peace and justice and bring hope to those less fortunate, the sick, the disabled, the elderly and the poor. Do not forget the immigrants that have risked there lives hoping for a better future. Lets open our hearts and minds to others. In our busy everyday lives it is easy to overlook the simple ways of making others feel welcome in our communities. We must make them feel that they are a part of the family of God.
The Canadian Catholic Organization For Development and Peace 1% program will support two new programs this year in Sierra Leone and Afghanistan while still supporting programs in Haiti. This was inspired by Pope Francis' encyclical Laudato Si. New brochures are available from the National Office at no charge. This is a wonderful tool for members to learn about the 1% program.
In a news release dated Dec. 13,2016, Alberta Senator, Betty Unger states "It is extremely unfortunate that the government did not allow the Task Force on Cannabis Legislation and Regulation to investigate whether marijuana should be legalized. We are clearly heading in the wrong direction and our young people will be most victimized due to the damage that marijuana caused to a young person's brain development".
She continues; "The health impacts of marijuana are worse than tobacco, and yet the Minister of Health, whose department is responsible for helping the people of Canada maintain and improve their health, is leading the charge on this dreadful policy". Senator Unger stated "I'm appalled that our nation is moving in this direction".
We must get on the band wagon and continue to write, phone, e-mail,etc. Our Members of Parliament and the Members of the Legislation that this is not acceptable. Write letters to Justice Minister Hon. Jody Wilson-Raybould, Health Minister Hon. Jane Philpott and Minister of Public Safety and Emergency Preparedness Hon, Ralph Goodale . The health of our future leaders is in jeopardy.
May God bless you and yours with good health and happiness in this 2017.